Sport
Canelo Álvarez defends super middleweight titles after Avni Yıldırım retires on stool – live! – The Guardian
https://www.theguardian.com/sport/live/2021/feb/27/canelo-alvarez-v-avni-yildrim-wbawbc-super-middleweight-championship-live
That's all for tonight. Thanks as always for following along with us and be sure to check out the full report from tonight's fight here.
Canelo has won recognized world titles at every division from 154lbs to 175lbs, but he's been fixated on unifying the four major title belts at 168lbs. When asked why, he's to the point: "It's because it hasn't been done. In Latin America, no one has done it. And in the world, only very few, only the best. And I want to make history, I want to be one of the best in the world."
Asked whether he believes he can match or surpass Julio César Chávez as the greatest Mexican fighter at any weight, Álvarez says he wants to forge his own path.
"I want to make my own history," he says. "I don't want to be equal to anyone. I want to make my own history and when they talk about boxing that they always remember: Canelo. I respect everyone in history, but I want to make my own history and I respect everyone."
Official: Canelo to fight Billy Joe Saunders on 8 May
"I needed the knockout and that's what I did," Álvarez says in Spanish through a translator. "It doesn't matter if they're taller or if they have more reach, if they have a good trainer or no good trainer. It doesn't matter. I come here to do my job. I come to win. I come to make history."
Eddie Hearn, who promotes Álvarez, steps in during his fighter's in-ring interview to reveal the worst-kept secret in boxing: Canelo will be fighting undefeated WBO super middleweight champion Billy Joe Saunders on 8 May at a venue to be announced shortly.
Canelo Álvarez wins by third-round TKO after as Avni Yıldırım retires on stool!
A beaten-down Avni Yıldırım did not even give his trainer a chance to make good on his threat, failing to answer to the bell for the fourth round. The referee calls a halt to the bout and Canelo Álvarez officially retains his WBA and WBC super middleweight titles by a third-round technical knockout.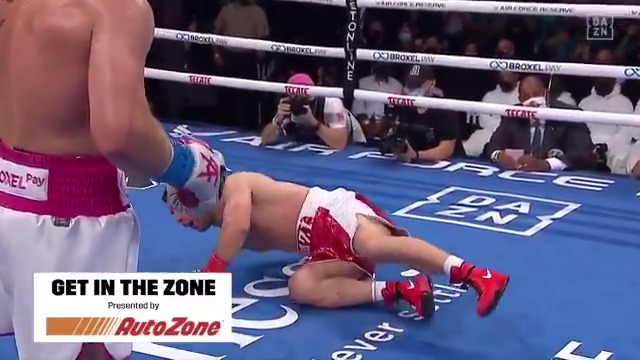 Updated
at 11.31pm EST
Yıldırım down in Round 3!
Álvarez is picking away the challenger with body shots, one after another. And Canelo lands a left-right combo upstairs and down goes Yıldırım! He makes it to his feet quickly and tries to laugh it off but he's in trouble with more than half the round to go! Yıldırım is in full retreat as Canelo moves in patiently to try and close the show. After the bell, Yıldırım's trainer screams at his charge: "I'm going to stop the fight! I'm giving you one more fucking round!"
Guardian's unofficial score: Álvarez 30-26 Yıldırım (Álvarez 10-8 Yıldırım)
Updated
at 10.56pm EST
Support Our News Campaign
Shop our Store
Click Here To Shop
Round 2
Canelo lands a left uppercut that whips the crowd into a frenzy. Yıldırım still not throwing and presenting a stationary target for the champion, who's opening up more and putting more punches in combination in the first minute of the second round. He lands a devastating left hand to the liver. And another. Now a right to the midsection, well beneath the high shell of Yıldırım. An educated uppercut-left hook combination by Álvarez that belongs in a museum. It's not immediately apparent what the challenger's strategy is, because this has been little but target practice so far.
Guardian's unofficial score: Álvarez 20-18 Yıldırım (Álvarez 10-9 Yıldırım)
Round 1
Yıldırım tried to touch gloves after the opening bell but Canelo wasn't having it. A measured opening minute for both fighters as they feel one another out while circling in the center of the ring. Canelo is landing the occasional shot beneath Yıldırım's guard to the ribs. Yıldırım hasn't landed anything at all through the first two minutes. Canelo opening up a bit more to the midsection, setting it up with the uppercut to Yıldırım's high guard, while still more radio silence from the challenger. An uncharacteristically slow start for Yıldırım, who's been known for his aggressive starts in the past. An easy round for Álvarez and he didn't have to do a whole lot to notch it.
Guardian's unofficial score: Álvarez 10-9 Yıldırım (Álvarez 10-9 Yıldırım)
J Balvin walks Canelo to the ring
A team of cleaners in full hazmat suits has finished their work of sanitizing the ring and Michael Buffer is at the microphone for the announcements. The national anthems of Turkey, Mexico and the United States follow and finally the fighters are making their entrances. Here comes the Turkish challenger, wearing a white robe with red trim and pounding his heart with his right fist while saluting the crowd.
And now it's Canelo's turn. The overwhelming crowd (and betting) favorite makes his way to the squared circle as a full performance by South American reggaeton superstar J Balvin plays out on the stage. That's what's known in the business as a flex.