Sport
India v England: third Test, day two – live! – The Guardian
https://www.theguardian.com/sport/live/2021/feb/25/india-v-england-third-test-day-two-live
India lead by 33 runs
Joe Root has the joint fifth cheapest five-fer in the entire history of Test cricket (full list here, thanks to Stephen Brown), this is anyone's match/series, and the players take lunch/tea/whatever 20 minutes early needing to dust themselves down, cool themselves off, and work out how to score runs against these opponents on this wicket.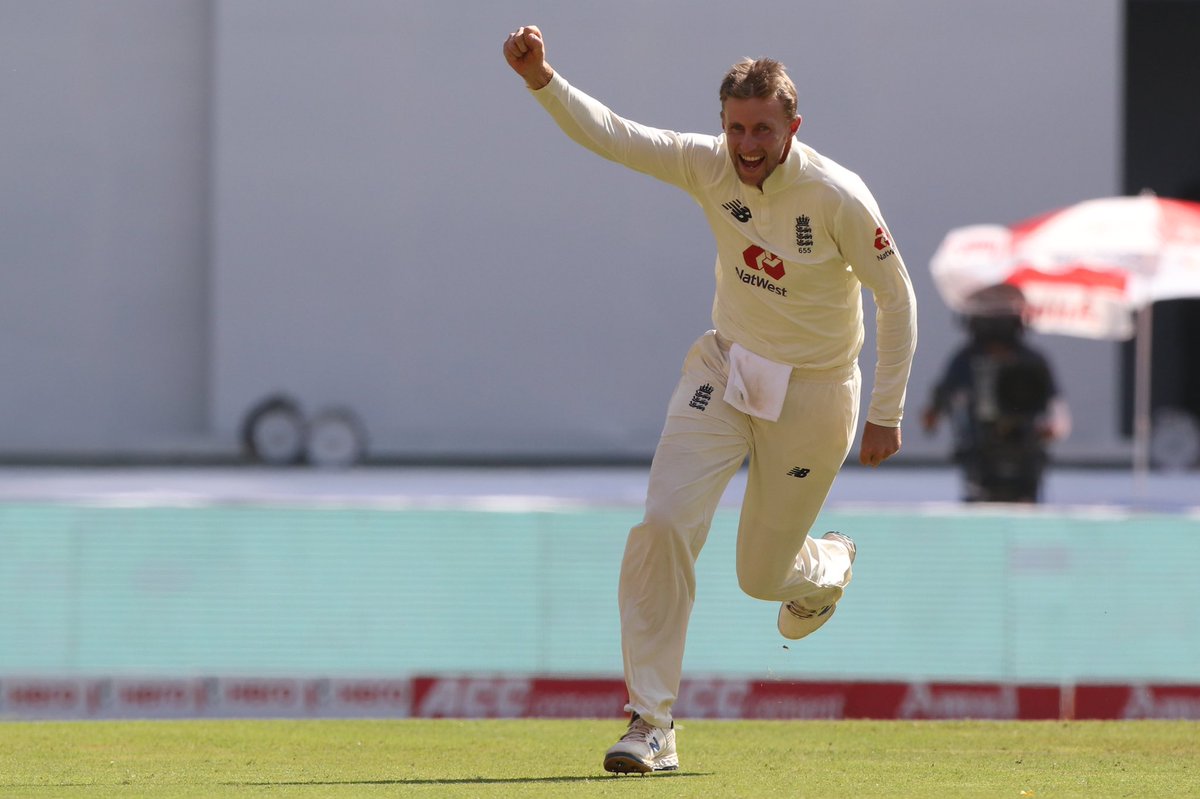 WICKET! Bumrah lbw b Root 1 (India 145 all out)
Joe Root has a five-fer! 6.2 overs, eight runs, five wickets, and he leaves the field waving the ball in the air!
WICKET! Bumrah lbw b Root 1! But he's reviewed it again!
This looks out, but again they might as well roll the DRS dice…
Updated
at 5.40am EST
53rd over: India 144-9 (Bumrah 1, Ishant 9) A long delay between overs, and then Bumrah edges Leach's first delivery high above Stokes, who flings out a hand, deflects it upwards, spins and dives backwards to complete the catch. It drops out of reach, which is a shame because that would have been an all-time great bit of fielding, one for the highlights reels and compilation DVDs, if such things still exist.
NOT OUT!
He did get some bat on it. Quite a lot of bat, really.
WICKET! And reviewed! Is Bumrah out here?
The umpire says yes, the batsman really might as well review it and didn't hesitate. Did he get some bat on it?
52nd over: India 144-9 (Bumrah 1, Ishant 9) A single off the handle for Bumrah, the ball looping just beyond Pope at short leg, and Root has to wait for his five-fer. India lead by 32 runs.
51st over: India 143-9 (Bumrah 0, Ishant 9) Six runs! Ishant cracks the ball over long-off for a maximum, and then miscues a slog-sweep for a couple more.
Updated
at 5.30am EST
50th over: India 135-9 (Bumrah 0, Ishant 1) Ishant inside-edges his way to a single and India lead by 23. India started the day at 99-3 and in complete control; 80 minutes, six wickets and 36 runs later they're in complete disarray.
WICKET! Ashwin c Crawley b Root 17 (India 134-9)
Another one for Root! Ashwin goes big and sends the ball looping to Crawley in the deep!
49th over: India 134-8 (Ashwin 17, Ishant 0) England are bringing in the fielders when Ishant Sharma's on strike, and moving them out again when Ashwin is. It seems a strange time to relax the pressure on any of the batters, but what do I know? A couple of leg-byes, and a mistimed edge along the ground for one.
48th over: India 131-8 (Ashwin 16, Ishant 0) Root's runless run ends with his 22nd ball, which Ashwin sweeps with impeccable timing for four.
Updated
at 5.12am EST
47th over: India 126-8 (Ashwin 11, Ishant 0) "Could it be that Joe Root will have a bigger impact with the ball than with the bat in this Test?" wonders Em Jackson. "There's still not much hope but I'd take a fool's hope over no hope right now." Don't downplay this, there's actual genuine rational hope here for England now, and it'll last until their second-innings collapse really gets going in an hour or two.
Updated
at 5.12am EST
46th over: India 125-8 (Ashwin 10, Ishant 0) Root has taken three wickets in three overs, and he still hasn't conceded a run! Just a remarkable quarter-hour or so of Test cricket.
Updated
at 5.05am EST
WICKET! Axar c Sibley b Root (India 125-8)
Axar Patel comes in and slaps his second ball straight to Sibley at short extra cover!
WICKET! Sundar b Root 0 (India 125-7)
A beauty from the captain, which straightens to hit the top of off stump!