Sport
Rob James: Amateur jockey apologises for climbing on dead horse in video – BBC Sport
https://www.bbc.co.uk/sport/horse-racing/56250379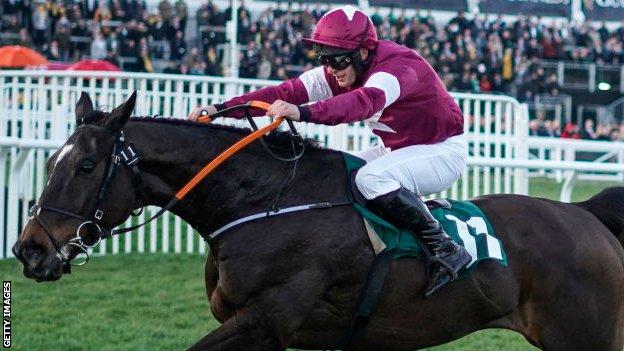 Irish amateur jockey Rob James says he is "heartbroken" at the "damage" he has caused after being filmed climbing on to the back of a dead horse.
A video on social media shows James mount the animal at a gallops while some present can be heard laughing.
The Irish Horseracing Regulatory Board said it was aware of the video and the matter was under investigation.
"I would just like to apologise for my actions which were wholly inappropriate and disrespectful," said James.
Speaking to the Irish Field, James added: "I sincerely apologise to the owners of the mare, the staff who cared for her, the horseracing industry and all followers of horse racing for my actions.
"To try defending my stupidity at the time would add further insult and hurt to the many loyal people that have supported me during my career. I have caused embarrassment to my employers, my family and most importantly the sport I love.
"I am heartbroken by the damage I have caused and will do my best to try and make amends to those hurt by my conduct."
James, who rode Milan Native to victory at the Cheltenham Festival last year, said the mare in the video died after suffering a cardiac arrest on a gallops in April 2016.
BBC Sport has approached James for comment.
Support Our News Campaign
Shop our Store
Click Here To Shop
His apology comes a day after Irish trainer Gordon Elliott was temporarily banned from racing in Britain after being pictured sitting on a dead horse.
Elliott, 43, apologised for a photograph circulating of him sitting on a dead horse and was later temporarily banned by the British Horseracing Authority, pending the outcome of an IHRB investigation.
The IHRB board will meet on 5 March to hear evidence.
Elliott said the image was captured "some time ago" and was a "moment of madness that I am going to have to spend the rest of my life paying for".
There has been widespread criticism from within racing of Elliott, who has saddled the winner of the Grand National three times.
On Tuesday, Cheveley Park Stud told BBC Sport's Laura Scott they will move their eight horses from Elliott's base and house them with Irish trainers Henry de Bromhead and Willie Mullins.
Leading Cheltenham Festival contender Envoi Allen moves to the De Bromhead team, along with Ballyadam, Malone Road, Quilixios and Guily Billy.
Mullins will take charge of Sir Gerhard, Grangeclare West and Classic Getaway.


Subscribe to the newsletter news
We hate SPAM and promise to keep your email address safe